2023 Spring Nature Walk Schedule:
You can download a printer friendly version of the activities by clicking here.

The most current Covid Provincial Health guidelines will apply to all events
The Nature Walks are at a slower pace as we stop to look at the flora and fauna. Bring cameras, binoculars, ID apps and books. Check in at the trailhead with the leader for a head count. Have your cell number and emergency contact information available for the leader. There will be lunch options after the walks depending on the weather. These will be confirmed in the walk reminders sent out the week of the walk.
All start times are 10:30 am at the trailhead unless noted otherwise.
If cancellation is required, you will be informed by email by Debra Friendly (in her absence by Pat Purcell) by 9:30am. Be sure to check your email before setting out!!
March 15, 2023
Clendenan Dam Conservation Area Clarksburg
Take Hwy 26 west from Collingwood towards Thornbury. Just before Thornbury turn left on Grey Rd.2 and then almost immediately turn right on Clark St. When you get to the stop sign in Clarksburg continue straight ahead over the bridge a short distance to the 10th line. Turn left and follow the road curving right to the parking lot at the dam.
An easy walk in the woods and along the Beaver River.
Leader: Migs Baker migsbak18@hotmail.com 705-445-4097
March 22, 2023
Harbourview Park
From First St. In Collingwood turn north on Hickory St. (Beer Store on the corner) park in the lot at the end near the Labyrinth. We will walk the board walk, looping back to the duck pond. Optional lunch at the Beaver and the Bulldog. Start time 10:30am. You will be informed Wednesday morning by 9:30am if there is a cancellation.
Leader: Migs Baker migsbak18@hotmail.com 705-445-4097
March 29, 2023
Osler Bluff Ski Club
From Collingwood take 6th St. to Osler Bluff Rd/Simcoe Road 34. Turn left and continue past the entrance to the ski club to Osler View Drive. Turn left and continue to Snowflake lane. Turn left and continue to the reservoir and the parking lot. These are groomed flat trails with a variety of bridges, groves of trees and beautiful views of the escarpment. Start time 1030am You will be informed Wednesday morning by 9:30am if there is a cancellation.
Leader: Migs Baker migsbak18@hotmail.com 705-445-4097
April 5, 2023
Uncle Richard's Maple Syrup Farm Priceville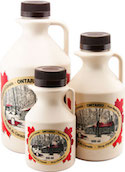 What a better way to kick off spring than visiting a maple sugar farm! We will carpool from Home Hardware parking lot at 6th and High St. for the 45 minute drive to Priceville. Departure time- 9:45am
Leader: Migs Baker migsbak18@hotmail.com 705-445-4097 c-705-441-0309
April 12, 2023
Georgian Trail from Arrowhead Rd
Head west on Hwy 26 from Collingwood to 209440 Hwy 26 (pink house on your left). There is parking in the driveway. We will walk east on the Georgian trail and loop back through the woods.
Leaders: Eddy and Doreen Seiggel seiggelhouse@rogers.com 707-441-0217
April 19, 2023
Blantyre Conservation Area
From Collingwood head west on Hwy 26 to County Rd 40 (Walters Fall Rd.) turn left. From Thornbury head east on 26 and turn right on County Rd 40. Continue on County Rd.40 for 17.5 km, through 4 stop signs, to County Rd 12 where you turn right and continue to Blantyre. Park on the roadside. Marilyn Rutherford will take us on a walk through field and bush into the Conservation with views of Georgian Bay and Cape Rich. Marilyn was born and grew up on the farm beside the conservation area.
Leader: Marilyn Rutherford bmrutherford@rogers.com 705-293-0674
April 26, 2023
Georgian Trail- Nipissing Ridge, Craigleith
Take Hwy 26 west from Collingwood (east from Thornbury) towards Craigleith. At the lights at Grey 19 turn left and park in the Craigleith Heritage Depot. It is a gentle walk on the trails of Nipissing Ridge through the towering trees and past quiet streams and waterfalls to Arrowhead Rd. and looping back to the start.
Leader: Sue Mason masonsuz@gmail.com 705-445-2680
May 3, 2023
Flesherton Hills Environmental Education Centre
From Collingwood take 6th St. to Osler Bluff Rd turn left. In less than 1km turn right onto Grey 19. Stay on Grey 19 until the stop sign at Grey Rd 2. Turn left and continue for 14kms. to Grey 4. Turn right. Continue for 15 kms to Flesherton. Turn left onto Hwy 10 (Alice St.) In 350m turn right onto Campbell St. Park at the end of Campbell St. or in MacPhail Elementary School Parking lot.
We will explore a variety of trails through hardwood forests, past marshes, native vegetation, ponds and an unusual kettle formation.
Leader: Lynda Eades clovhill63@gmail.com 519-599-5842
May 10, 2023
Margaret Paul Side Trail
From Collingwood take Mountain road to the roundabout, then take Scenic Cave Rd, up the mountain to the 4 way stop at Banks, Turn right onto 4th line and continue past 18 side Rd. to 6th line on your left. Turn left and continue to the end and park on the side of the road.
This is a wooded walk beside a stream with gradual grades- not difficult.
Leader: Migs Baker migsbak18@hotmail.com 705-445-4097 c-705-441-0309
May 17, 2023
Ecopark Stayner
From Collingwood take Hwy 26 south towards Stayner. Just before the Stayner cemetery turn left on to Nottawasaga sideroad 27/28. In 1.4kms turn right onto Mowat St. for a short drive to the Park Entrance on your right. Park at the end of the road.
Along with the Hiking Group we will join Erica Dewey of Clearview Parks and Recreation for an informative walk/talk. Learn about the many features of the park and the Nature League's contribution to its development.
Leaders: Lois and Gary Cauthers glcauthers@rogers.com 705-446-2272
May 24, 2023
Castleglen Estates
From Collingwood take 6th St. north to the stop sign at Osler Bluff Rd. Turn left and continue less than 1km to Grey 19. Turn right and continue up the mountain. In 2kms you will see a large sign in the field for Castleglen Estates. Turn right onto Osler Lane. At the stop sign turn right onto Northmount Cr. Stay on it as it curves up the mountain. Just past #172 Northmount Cr, Castleview Rd goes off to your right. Park in the driveway at 123 Castleview .
We will walk through the woods back to the Lake of the Clouds. There will be many trilliums and other wildflowers and perhaps migratory birds. We will view the castle ruins as we continue out to the 12th line where there are magnificent views of Georgian Bay and the Bluffs. We will return back on the same route.
Leader: Migs Baker migsbak18@hotmail.com 705-445-4097 c-705-441-0309
May 31, 2023
Kolapore Uplands Wilderness Trail
From Collingwood take 6th St. to the stop sign at Osler Bluff Rd. Turn Left and in less than 1km turn right on Grey Rd 19. Continue to the stop sign at Grey 2. (approx. 7km) Turn left and continue to the next crossroads: Osprey-The Blue Mountains Town Line. Turn right and drive about 2kms and park in a small lot on the left or on the road.
This is an easy walk through the managed forest. We will see many species of ferns and spring wildflowers.
Leader: Migs Baker migsbak18@hotmail.com 705-445-4097 c-705-441-0309
June 7, 2023
Standing Rock, Singhampton
From Collingwood take Hwy124 south to the lights at Duntroon Side Rd. (Simcoe County Rd 91). Turn right and proceed to T intersection at Clearview/Osprey Town Line). Turn right and continue to the parking area at the end.
This is an easy in/out walk with shaded glades and open areas with great views.
Leader: Migs Baker migsbak18@hotmail.com 705-445-4097 c-705-441- 0309
June 14, 2023
Wasaga Turquoise Trail
Take Hwy 26 East to the Mosley Rd. roundabout. Follow Mosley Rd. to River Rd west. Take River Rd west to Veteran's Way, turn right and continue 1.4km to Fernbrooke Rd. Park on the road.
This is an easy loop featuring wildflowers, mushrooms and fungi.
Leader: Marlene Esson dmesson@yahoo.com 705-445-5793
June 21, 2023
Beaver Dams Epping
Take 6th St. from Collingwood to Osler Bluff Rd. Turn left and continue less than 1km to Grey Rd. 19 and turn right. Continue to the stop sign at Grey Rd 2 (approx. 7km). Turn right and continue to the town of Ravenna where you turn left onto County Rd 119. Continue to Grey Rd. 13. Turn right and continue to the first turn on your left, with sign Epping, side rd. 19. After turning left continue over bridge crossing the Beaver river. Continue on side rd. 19 crossing Grey County Rd, 7. In 1⁄2 km look for Bruce Trail signage on your right. Parking on the side of the road.
This is a varied walk beginning in open country with wild flowers and shrubby growth with lots of blooms. When we reach the beaver dam we will look for wildfowl and other birds. We walk beside the pond, crossing a bridge into open bush and continuing to farm fields. We will turn around and take the same trail back to our cars.
Leader: Migs Baker migsbak18@hotmail.com 705-445-4097 c-705-441-0309
Go to Spring Hiking Schedule